About Us
Refreshing mind and peaceful environment boosts productivity while making body and mind healthy and fit. People who believe creating a relaxing atmosphere is the new healthy must shop for our aromatic collection of Bath Soaps, Herbal Products, Incense Sticks, and so much more.
We,
Pramukh Innovations,
work as a
manufacturer
and
exporter
of
T Light Aroma Oil Diffuser, Body Perfume, Massage Oil, Khadi Natural Herbal Soap, Natural Incense Cone
and a host of other products. As a new-age company, we emphasize over the fact that good health involves not only consumption of nutritious food and regular exercising but also a peaceful and comforting environment where there is no negativity.
Thus, we bring forth mind and body soothing aromatic products in a number of fragrances. List of available fragrances are:
Floral
Woody
Spicy
Fruity
Citrus
Herbal
International Presence
Our mesmerizing collection of aromatic essentials is served to customers in not only India but also in other countries like USA, UK, Canada, Australia, Japan, France, Spain, Germany, Brazil, Italy and many more. We have setup a strong network for delivering our collection in aforesaid countries with the support of reputed logistic providers.
Our Facilities
Creation of T Light Aroma Oil Diffuser, Massage Oil, Khadi Natural Herbal Soap and other herbal, handmade and aromatic items are result of deep in-house research and development. We have advanced facilities for producing aforesaid products. A skilled team has been specially hired to QC all products before packaging and delivery.
Packaging Perfection
We have our wonderful assortment of aromatic products made as per international quality standards. Quality is a factor that we believe brings our customers satisfaction but what brings us their delight is our attractive packaging. We have our own studio for creating uniquely printed packs for Natural Incense Cone, Massage Oil and many more products. Eye-pleasing colors and different designs on all packs give our products outstanding visual appeal, which impresses buyers the most.
Other Brands We Deals In


We are involved in this industry as not solely manufacturing but also trading company. We are proud to serve as a trader because we source all popular brands of Agarbatti and serve them in Indian and Foreign markets. If you are looking for any particularly famous brand of Agarbatti, then go through our below cited collection containing almost all market appreciated brands:
Cycle Pure Agarbatti
Moksh Agarbatti
Zed Black Agarbatti
Patanjali Agarbatti
Mangaldeep Agarbatti
Charu Agarbatti
Satya Agarbatti
Hari Darshan Agarbatti
Nandi Agarbatti
Kalpana Agarbatti
Tridev Agarbatti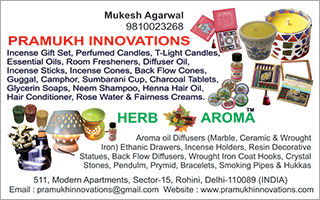 Read More